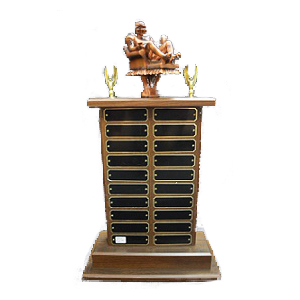 This Fantasy Football Sculpture is a comical way to reward a winner. The unique Resin football player sits atop of a couch, ready to accept his well-deserved award.
Proudly display each year's league winner on the Fantasy Football Lazy Boy Trophy. This classic vintage gold football is mounted on a high-quality wooden base with 12 satin gold name plates - 2 plates on each side. 
When ordering, you can personalize as many name plates as you like, the remaining plates would be left blank. For example, personalize the name plates with the team name, manager name, year, MVP of the team and/or the final record, its all up to you! 
In the future, after each season, order a new name plate.